The Oriel Window on the Hummingbird room is another Bavarian building feature that is rarely seen in America. By cantilevering in two directions, the tower gains space while leaving the street below untouched. The windows offer view all around from the mountains to the main street to the town square.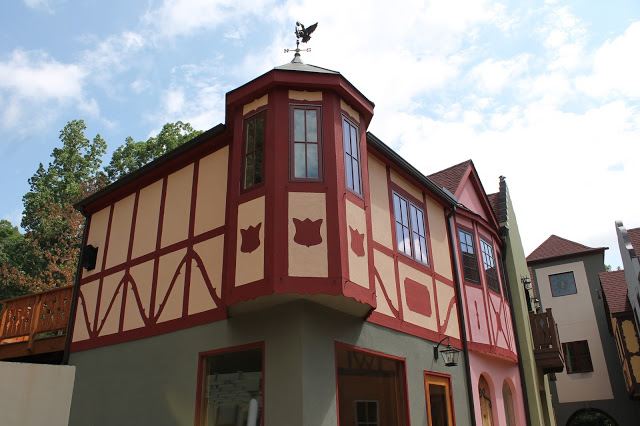 To add to the difficult, the octagonal tower is 10 degrees from square relative to the floor system. If you stay in the Hummingbird Room and stare at the ceiling, you will need to bring a geometry book to figure out all the angles involved.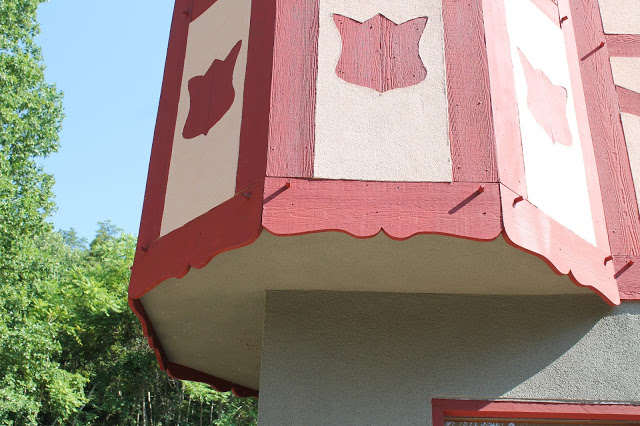 A bird has found a use for the pegs. It must be a good spot, as the little birds never seem to leave the nest.
Our two kittens got some extra lives added up on the wall. Just like the real kittens, one sleeps all day and one is always looking for trouble. Below the cats, the timberframe bracing is from Bavarian folklore with an added twist. The right side is a symbol in many German timberframes call the "Wildman of the woods." If you look closely, it can be seen as a man with arms up. Though I never saw this while in Germany, I decided it was time the wildman found a wife. So far so good, he has not run off in the woods yet.
This squirrel has figured out how to get her attention. If the acorn fails, then book a couples massage or a romantic drive on the parkway.