Fenton Inn's Breakfast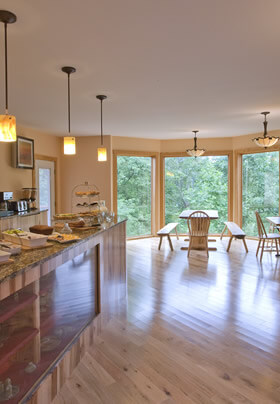 While traveling in Europe, we ate at a small Bavarian bakery near a clock tower. This little magical experience is the heart of the Fenton Inn breakfast. Choose from eating bistro-style on our own historic Main Street, eat inside in front of floor-to-ceiling windows looking out at the mountains, or sit at our Swiss-styled balcony and listen to the birds sing. Enjoy a cup of coffee or choose from a wide selection of teas. Breakfast is buffet-style with European breakfast options like yogurt, home-made granola and fresh fruits. Each day we have hot options including scrambled eggs, sausage, buttermilk pancakes, Belgium Waffles and other seasonal favorites.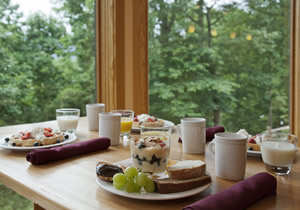 The Bakery is open for your complimentary breakfast between the hours of 8:00 a.m. to 10:00 a.m. As we know how hard travel can be with special dietary needs, we will do our best to accommodate healthy dietary requests with advanced notice at time of reservation.