Learn More About Fenton Inn
European elegance and spectacular views come together in the heart of the Blue Ridge Mountains. The Fenton Inn is surrounded by things to do, wineries, breweries, National Parks, the Appalachian Trail and the ski slopes of Wintergreen, but the most interesting attraction in the area is a stay at the Fenton Inn. The Inn is not just a place to stay, but a must see destination for anyone interested in art, architecture and European history. Step onto the cobble stone streets and be transported back to Medieval Germany. The Inn is a complete village, with a town square, clock tower, bakery, theater, gym, spa, store and a handful of other buildings. Stroll the Main Street and window shop in the many display windows and look up at the many different half-timber facades inspired by the traditions of Bavarian timber-frame. More than just ornamental, the various braces and figures on the buildings each have historical meanings, like the Grudger head protecting from evil and envy, to the Wildman of the woods in timber bracing used in central Germany. Inside the lobby, oak timbers soar in a full arch inspired from a Medieval English church. Along the street, a curved window display is filled with a museum of historic tools from America and Europe, many of them were used on Museum restoration projects for Thomas Jefferson, Robert E Lee and other Virginia landmarks.
Architecture lovers will be amazed by the design of the Fenton Inn. The entire main street is subtly curved to perspective, such that a stroll on Main Street looks longer and one must walk all the way to see each ornate facade of the various buildings. There are a number of Jefferson inspired octagons, half octagons and a cantilevered octagonal tower called an oriel window. The rooms have so many different shapes and styles, one must come back time after time to stay in each room to see it all. The resulting intersections of all the different angles makes for an extremely complex roof line, which has many different gables and towers all playing around on the roof with the occasional gargoyle or hummingbird weathervane perched on top.
Those interested in art can delight in finding interesting details around every turn. The entire village is a giant work of sculpture, adorned with many different artist features that are one of a kind. The wood work and doors are from trees that grew just feet away from where they are now, all milled and cut on site. Valuing each tiny piece of wood from the trees cut from the land, even the smallest pieces were saved and used to make a variety of mosaic doors and furniture. There are tree trunks framing a giant window, as if still in the forest while inside. There are custom designed furniture, cabinetry, one of kind timber frame styles, tile mosaics and so much more. Even the cobble stones on the street get creative and turn into a maze in the town square. Walls curve and dance with each other dressed in bright colored stuccos. It is truly a place where the imagination is opened and one sees new thing all around. It is a place to recharge, to believe in dreams and to relax.
ON-SITE AMENITIES:
Bakery: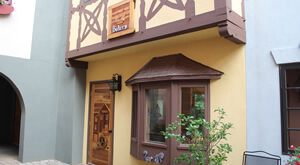 Enjoy our complimentary signature breakfast each morning. Pick and choose from a selection of buffet-style items including eggs, sausage, Belgium Waffles, fresh fruit, Gluten Free Home Made Granola and more.
Lobby: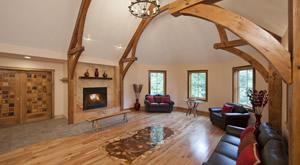 Relax with a cup of coffee or cookie while warming up by the stone wood-burning fireplace. It is the perfect place to meet with other guests to share stories or play a classic board game with your family.
Gift Store: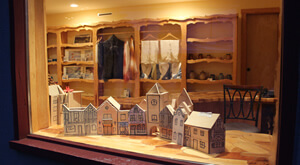 Browse local arts and crafts from our surrounding area and rare finds from around Europe. We also sell a variety of exclusive Fenton Inn products available only here .
Meeting Room: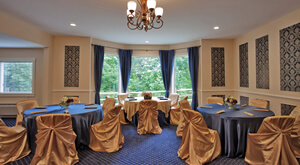 Small weddings and gatherings of around 40-50 people can be hosted in our Ballroom. Ornately decorated walls and columns can be the perfect back drop to any special event. It can also be arranged for business meetings, lectures or corporate retreats.
Gym: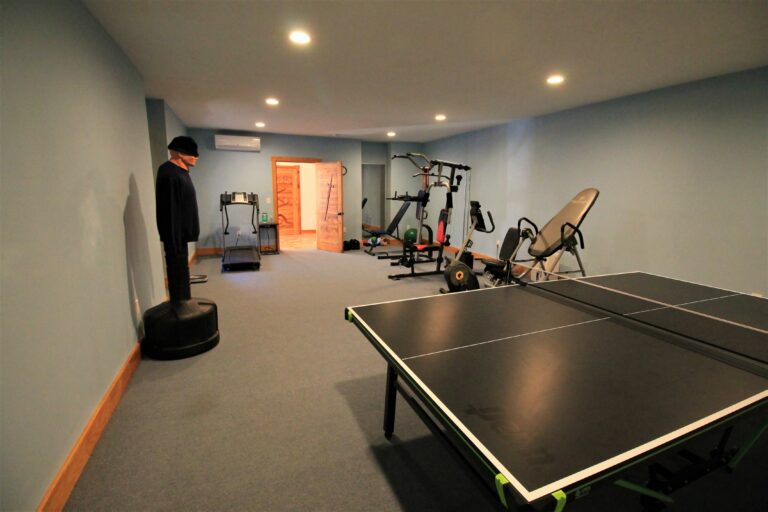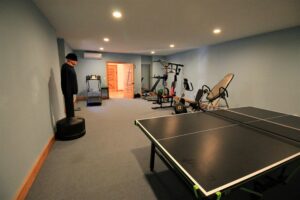 Just because you're on vacation doesn't mean that you have to give up the exercise routine you have worked so hard to establish, or perhaps you could take this opportunity to start a new regimen that will improve your future health.
Spa Room: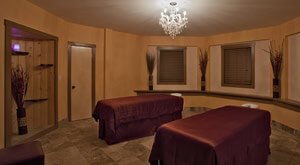 Relax in the true lap of luxury in the Fenton Inn's spa room. The ornate octagonal room is the perfect location for a soothing massage from professionally trained masseurs. Draw the blinds, close your eyes, and let go of life's burdens with therapeutic couples massage, or recover from a particularly thrilling day on the slopes with a solo deep-tissue massage. Please call at least one week in advance to schedule a masseuse for the particular date and time that works for your vacation.
Main Street and Town Square: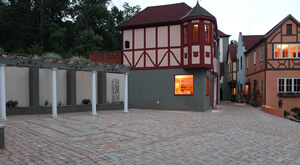 Enjoy breakfast at a Bistro-style table on Main Street and watch the people go walking past, or read a newspaper near the clock tower. The cobblestone street and medieval village houses will make you think you are in Europe. The Town Square offers sweeping views of the Blue Ridge Mountains, and romantic flower-covered columns can make the perfect outdoor location for weddings or gatherings.
Movie Theater: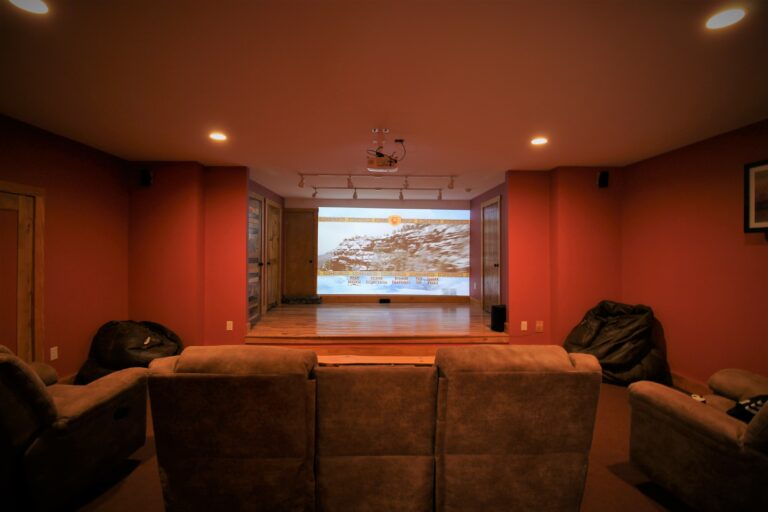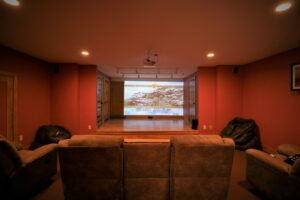 Movie night goes big in the village's own movie theater.
Please ask about Off to the Show Package for a private showing for you and yours or a whole group!
Take a hike from your room: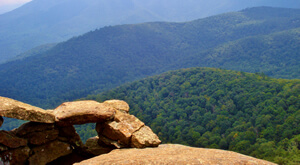 The Appalachian Trail is just half a mile from our front door. Slip on your favorite hiking boots, grab a walking stick, and set out for adventure.
About the Innkeepers: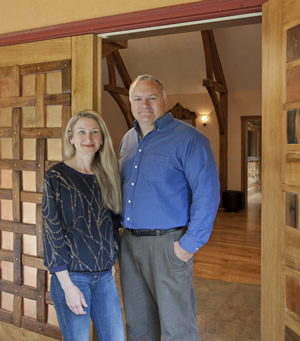 The Fenton Inn combines the American mountains with the finer parts of Europe and is a reflection of the Innkeepers Lilia and Will Fenton.
Will grew up near Albany, New York and spent summers hiking in the Adirondack Mountains. He graduated from the University of Arizona with studies in Architecture and Finance. Returning to New York, he studied historic restoration and worked on some notable historic Dutch homes in the Hudson Valley. Following his passion for history, he moved to Virginia to work at Thomas Jefferson's Monticello. From there he was recruited to Jefferson's summer home, Poplar Forest, which was a complete rebuild following Jefferson's original letters. Will worked at many other museums, including Robert E. Lee's birthplace, Stratford Hall, Yorktown, Colonial Williamsburg, etc. Ever drawn to the mountains, he would spend his time off biking the Blue Ridge Parkway or hiking along the Appalachian Trail. His favorite day hike was to go up Three Ridges from Reid's Gap, and then one day he noticed a sign for land for sale with a view of his favorite mountain. This is where he built his house and later, the Fenton Inn.
Lilia grew up in Crimea, on the Black Sea Coast. Her father was a doctor and they lived in an elegant castle-looking home in a summer beach town. Lilia attended medical school in Simferopol and received her doctor degree in medicine. Crimea is an area rich in history and filled with castles and it was here that Will and Lilia's fairytale began. But that is another story, one of many we can continue by the fireplace in our Lobby.
See you soon!
Lilia and Will