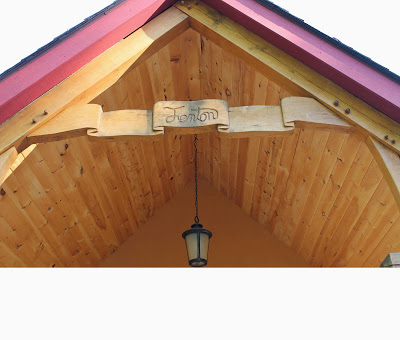 There are a lot of projects still left to go, but there are enough beautiful and exciting things that we can start updating you on the progress as the weeks go by. So, lets take a tour and get to know the Fenton Inn.
The roof of the front porch has gotten its banner and is ready to greet guests. All of the wood in the building is unstained so you can appreciate its natural beauty. A lot of the unique wood was harvested from the building site, the more character the better. There are a lot of areas where we utilized the raw edge of the wood as well, which you will see in some of the other rooms.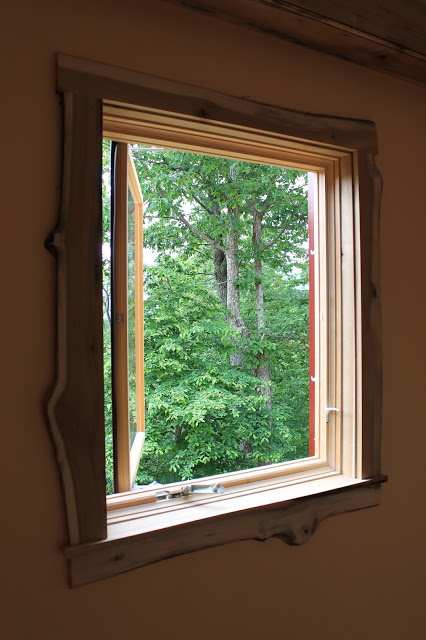 As soon as you walk into the front door, you are greeted with a taste of the beautiful woodworking that permeates the rest of the inn.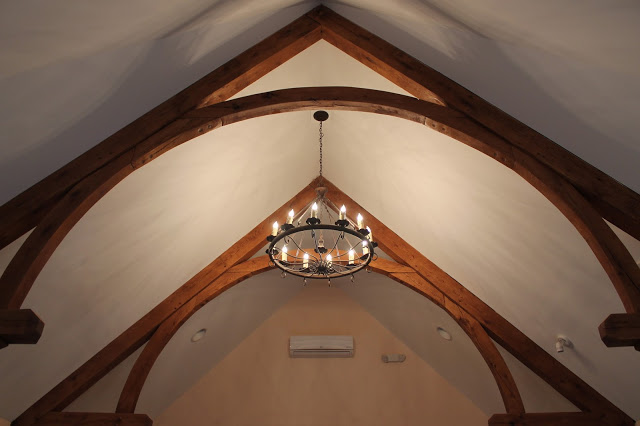 Most of the floors and doors are finished now, and we've moved on to finishing windows and installing the clock that will overlook the main street. It has astrological symbols carved into the face and had to be hoisted up a ladder along with an equally large piece of glass.
Here is a sneak peak of of the street that separates the two sides of the Fenton Inn.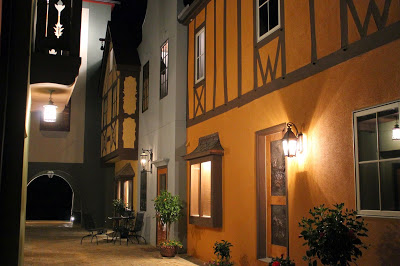 Lilia Fenton just planted all of these lovely hibiscus along the road in gorgeous copper pots. They really set off the little hand made copper shingles along the tops of the windows. You can barely see it, but there are copper plates in the first door that have bear claw prints embossed in them. Doesn't it make you feel like you've just stepped into an old European town?
Come back next week and we'll take a look at a few of the exterior doors. Maybe the rain will hold off and we'll be able to finish more of the street and work on a winding bench that will curl around the back end of the street.